4th/5th grade students are invited to a Movie Night on Friday, December 2nd.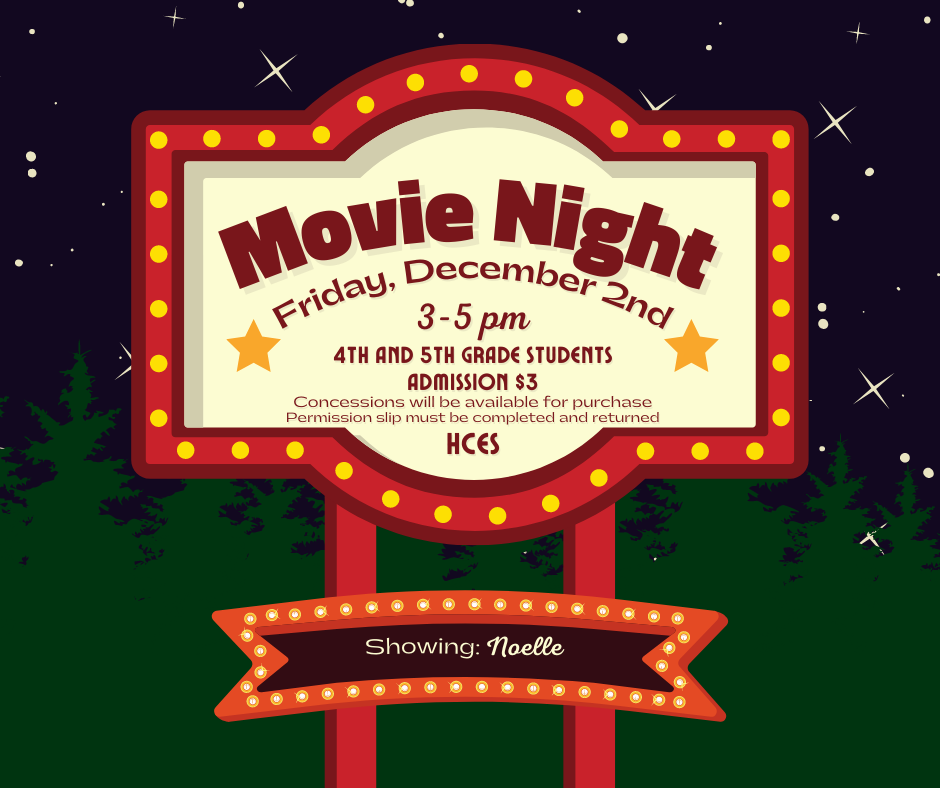 HCES Families, In order to continue to improve safety on our campus, we are asking that all afternoon car riders wait until 2:00 to line up for car rider line. This will help ensure that we do not block the parking lot for those who need to check students out and it gives our students an opportunity to get in off the playground before cars are lining up. Thank you for your understanding and cooperation. Have a wonderful evening!
We hope all our HCES Families have a safe and restful Fall Break! See you back on October 17th!
Come join us tomorrow night at the GPAC to enjoy an awesome performance from our 4th and 5th Grade Singing Braves! We will start at 6:00 pm with a quick PTO meeting and the Singing Braves will perform immediately after! Hope to see you there!
Save the date for our Fall Festival in 3 weeks! Order forms for unlimited activity bracelets are going home this week! PTO will have fresh Krispy Kreme donuts available for pickup this year at Fall Festival. Pre-order forms will be attached with the fall festival information. Donations of candy, 2L drinks for the bottle toss, and baked goods for the cake walk are also appreciated. (Please send in baked goods after fall break).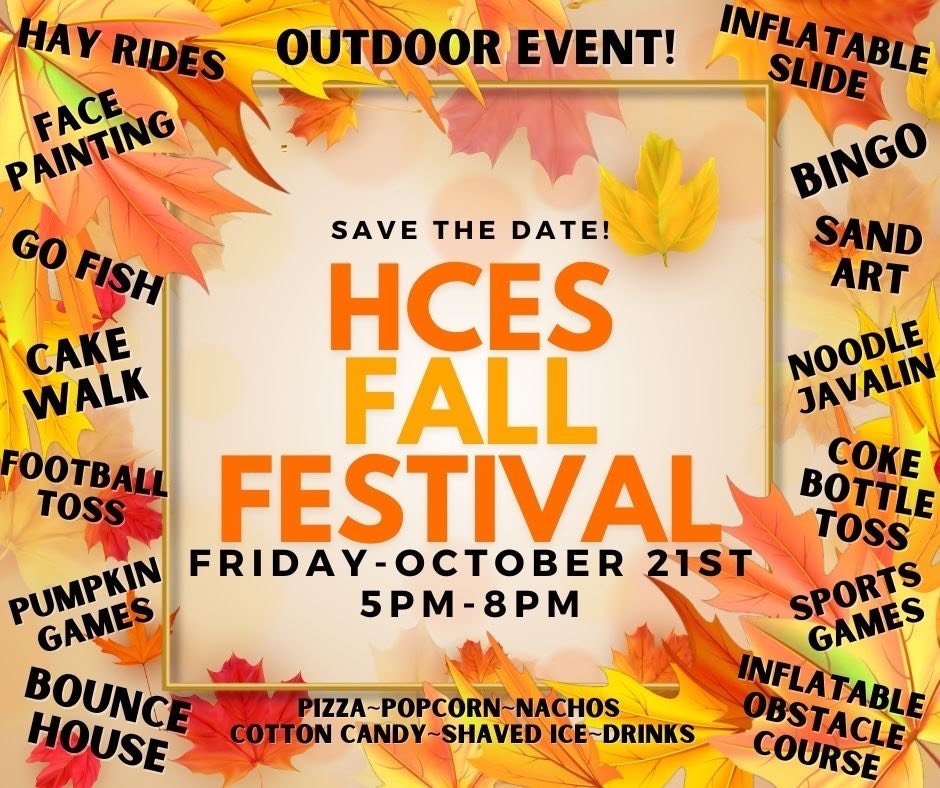 Attention 4th & 5th Grade Parents: Ever been frustrated trying to help your child study math or complete homework? Now's your chance to get help and see what's coming up. See the attached flyer for details. We hope to see you there.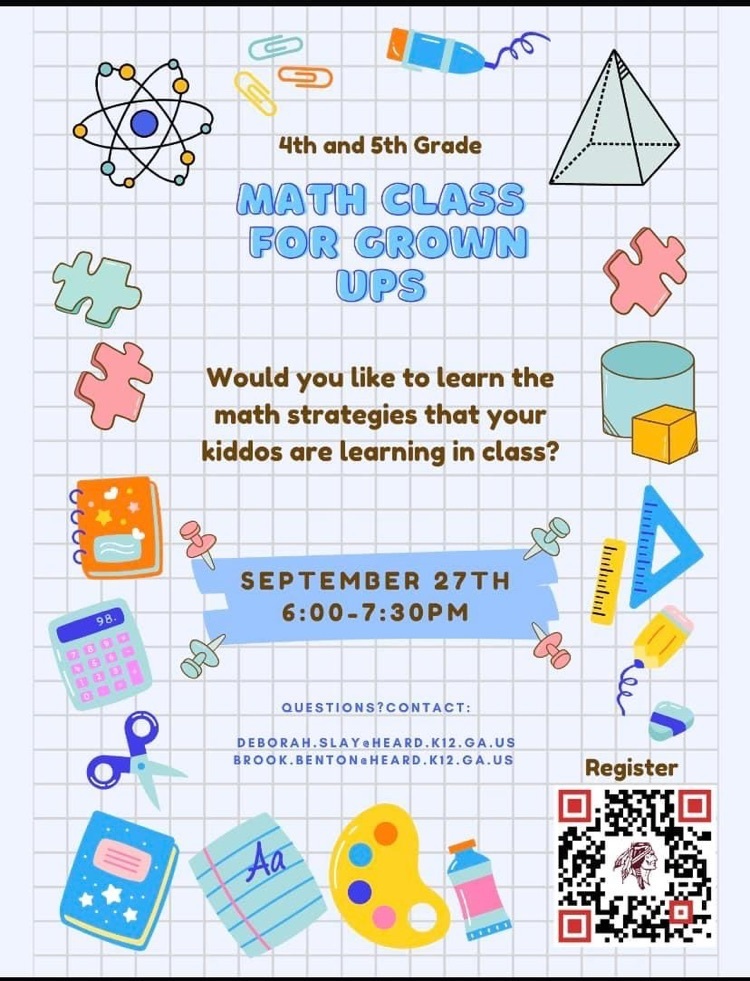 Fall Pictures September 2, 2022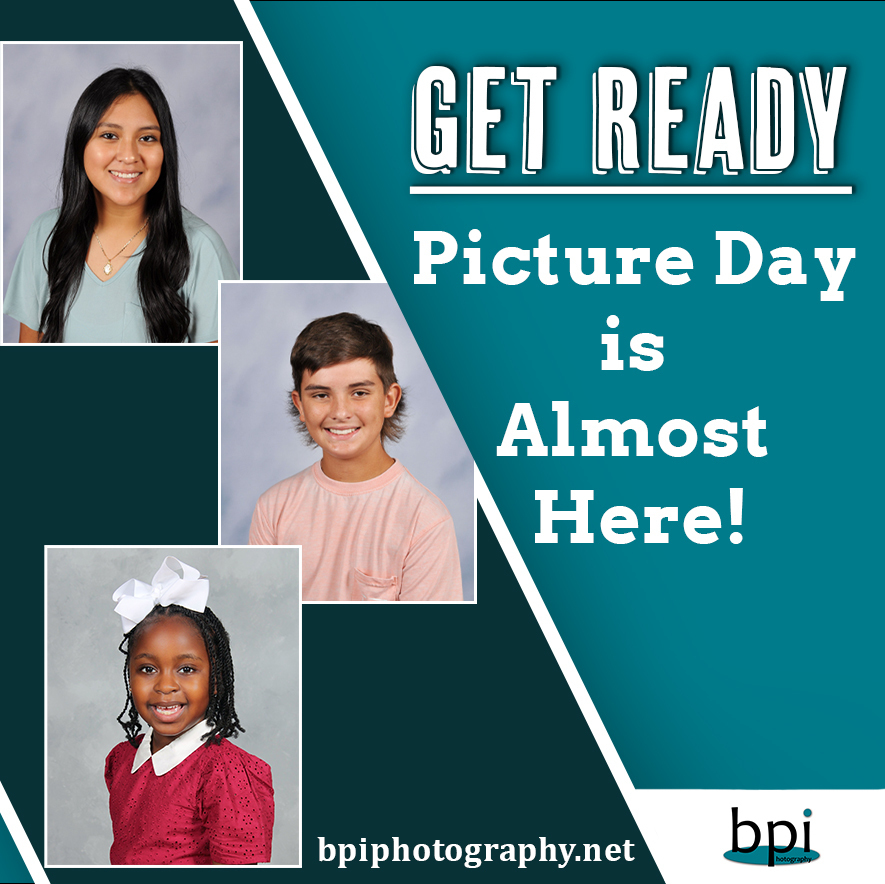 Attention parents/guardians, Today, your child enjoyed a fundraiser kickoff pep-rally with 2-A-Day Rewards! This evening, please sit down with your child and begin contacting each of your friends and family members to invite them to donate to our school-wide fundraiser. It is important that you read the script that is written on the front page of the Family & Friends sheet. There are specific instructions provided on the back of the Friends & Family Sheets. Any student who receives at least three donations by midnight tonight, will enjoy an ice cream party provided by 2-A-Day Rewards. If you or your donors are asked to enter a school code, our individual school code is HCES22
HCES Families, Make sure that you have begun adding names and phone numbers to your child's Friends & Family sheet in order to prepare for our fundraiser launch on Wednesday, August 17, 2022. We are asking for your child to have 20-30 names of friends and family members who are willing to support your child and our school. Filling out the Friends & Family sheets in advance will ensure that this is a successful fundraiser. You will keep these sheets for your reference next Wednesday. They are not to be returned to the teacher. Make sure you scan the QR code to learn all about the app. Have a great weekend! Go Braves!
HCES Parents, If you have a PowerSchool account set up, please go in and double check that you completed and submitted all enrollment forms. If any of the forms show as "EMPTY", please make sure you fill them out and submit them by Friday, August 19th. If you do not have a PowerSchool account, please contact the school to get further information on setting up the account and completing the enrollment forms. Thank you for your attention to this matter!
HCES Families, This is a reminder that we will have Curriculum Night tomorrow night for 3rd, 4th, and 5th grades. We will start at 5:45pm with a Title 1 meeting in the cafeteria and then move into the grade level sessions. Hope to see you there!
HCES Families, Today or tomorrow, your child will bringing home information about our upcoming school-wide fundraiser, which will kick-off on Wednesday, August 17, 2022. Please read over this information and begin to familiarize yourself with our fundraiser. We are asking you to help your child brainstorm 20-30 friends and family members who are willing to support your child and our school. These supporters do not have to live near by. Please write down their names and phone numbers on the Friends & Family sheet in order to prepare for our fundraiser launch on Wednesday, August 17, 2022. Thank you, in advance, for your support.

For the school year 2022-2023, Heard County is requesting all families to complete and submit a Free and Reduced Meal Application. The Free and Reduced Meal Application is easily accessed at
https://secure.ezmealapp.com/
or a paper form is available at all schools. Please complete an application as soon as possible.
Good evening HCES Families! This is a friendly reminder that parents will not be allowed to walk students to their classrooms tomorrow. We ask that everyone who is bringing their child in the morning, please come through the car rider line. Thank you for your help with this transition!
Parents - Please check your PowerSchool account before coming to Open House today. If your Proof of Residency is not approved please bring a copy of one of the documents listed with you to the school. We look forward to seeing each and every one of you. Thank you!

Thank you to all parents who have completed registration! heard.powerschool.com/public Login to your parent portal and click forms and enrollment to complete registration if you still need to submit forms. If you are having trouble uploading your residency photo, choose actual size and small when uploading if using a phone. Open House will be August 1, 2022 if you have any additional questions about registration.
The county is supplying the students with classroom supplies again this year. Each grade level has a wish list for additional supplies if you would like to donate. Thank you!

Registration is now open for returning Heard County students. Login your parent Powerschool account and complete the forms. Here is a link for step-by-step directions if you need assistance. Help will also be available at Open House.
https://www.heard.k12.ga.us/page/powerschool-parent-access-guide
*New students to Heard County will register at a later date.
Welcome Back from HCES! Please read the attached letter for some important reminders for the 22-23 school year! We can't wait to see you at Open House!