Band Camp 2020 Today is the day to start hydrating for tomorrow! I'm drinking water like it's going out of style! PLEASE, hydrate and eat a real breakfast before arriving to camp. Most of the heat issues that occur are due to inadequate hydration and nutrition. Don't let yourself have an unpleasant experience! Here's the schedule: Report to Band Room for Screening (7:30-7:50am) -Temp Check and COVID-19 questions -Return COVID-19 Protocol Forms (or sign if you missed last week) Get instruments, music, water, sunscreen -Report to band field, ready to go at 8:00am -We will provide snacks in the morning Lunch is provided by the school system at 12:00 -Students may choose to bring their own lunch -Students may not live campus during lunch Small Group Instruction will begin after lunch until dinner -Monday dinner is Wraps and Sub sandwiches -The menu for the rest of the week will be posted in band room -Students may choose to bring their own dinner -Students may not leave during dinner Large Group Instruction will begin after dinner until 8pm Monday's Mandatory Fun event is a Scavenger Hunt Students will be dismissed after the Hunt The rest of the week will run on the same schedule, except for Friday evening. We hope to perform for the parents, but I must make sure we are following local, state, and health guidelines for that particular gathering. I am so excited about camp! If you have any questions, please email me at
johnny.hurd@heard.k12.ga.us
or send me a message through Remind. If you need immediate assistance, you may text me at 706-594-2466. Please include your name in the text.

We are excited to announce the Point University Marching Skyhawks as our featured Exhibition band at the 2020 Stateline Showdown!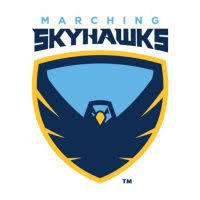 You can now pay your 2020 Band Dues through Venmo. Payments can be sent to @HeardBand.

We are migrating Remind communication to the NEW Heard County App. See the post in our LIVE FEED regarding the process of downloading the App. Once you get the App, click on SETTINGS, Click TURN ON NOTIFICATIONS, scroll to the bottom of RECEIVE NOTIFICATIONS FROM, click HEARD COUNTY BAND. You will now receive notifications regarding the band.

Due to GHSA Dead Week, the Summer Music Rehearsal for June 30th has been cancelled. We will meet again on July 14th. Go Braves!


I sure do miss my band peeps! At least we got to see each other via Google Meet!